Muslim Gunman Who Assassinated Russian Ambassador Andrei Karlov Was Giving Rothschild Triangle Hand Signal?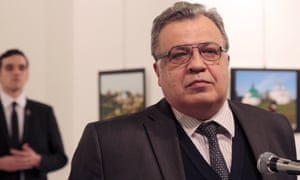 Russian ambassador to Turkey shot dead in Ankara art gallery
The Russian ambassador to Ankara has been killed in a gun attack at an art gallery in the Turkish capital, Russia's foreign ministry confirmed. Reports suggested the gunman was a Turkish riot police officer. Andrei Karlov was attending the opening of an exhibit at a contemporary arts centre when he was attacked on Monday evening. He was several minutes into a speech at the exhibit when a man shouted "Allahu Akbar" and fired at least eight shots, video of the attack showed. After firing at the ambassador, the man, dressed in a suit and tie, shouted in Turkish: "Don't forget Aleppo. Don't forget Syria. Unless our towns are secure, you won't enjoy security. Only death can take me from here. Everyone who is involved in this suffering will pay a price." He also shouted in Arabic: "We are the one who pledged allegiance to Muhammad, to wage jihad."
Source
Hand Signals?
Rothschild Triangle
Rothschild Triangle