DOOM For Arab Peninsula! Paris Hilton Lands In Abu Dhabi All Covered Up At Sheikh Zayed Grand Mosque Centre
Paris is in Abu Dhabi: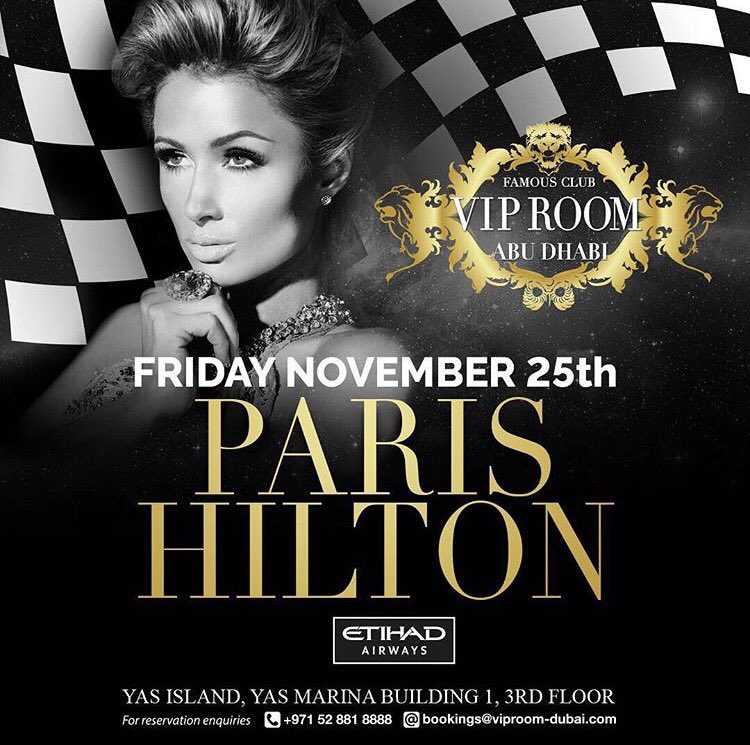 Paris was in Abu Dhabi for the Grand Prix:
Nico Rosberg seals first F1 world title at Abu Dhabi Grand Prix
Nico Rosberg has won his maiden Formula One world championship. Needing to finish in the top three in Sunday's final race of the season in Abu Dhabi he was second to his Mercedes team-mate Lewis Hamilton. But he had to survive a scary few final laps as the outgoing champion ignored team orders and attempted to back Rosberg into the cars behind. The result means Rosberg has won the title by five points. The fact that Hamilton has won 10 races to Rosberg's nine this year will be of no consolation to him. It was another controlled, calculated race by the German to bring him the title he has always coveted. But he also showed some courage in his overtaking move on Max Verstappen to regain second place, almost colliding before surging into the lead. But Rosberg had to survive a late fright as Hamilton employed some gamesmanship by slowing down. With Hamilton leading, Mercedes told him to quicken up. They asked the driver why he was going so slowly, then said: "Lewis this is an instruction, we need 45.1 for the win." But Hamilton replied: "I suggest you just let us race."
Guardian Read More
— Paris Hilton (@ParisHilton) November 27, 2016
Get ready for doom......
Remember what happened in 2010?
Paris paid a visit to Egypt in June 2010:
JUNE 2010
JUNE 2010
Six months later to the day the Arab Spring engulfed all of Northern Africa: