HAJJ DOOM! TARGET MT ARAFAT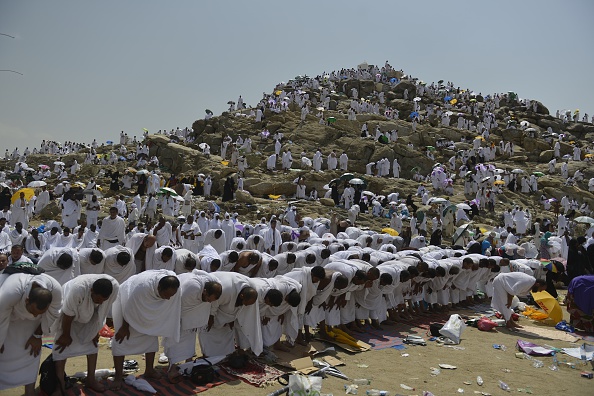 Mount of Arafat, southeast of Mina, is where Muhammad delivered his final sermon on the first Muslim hajj, and it is the commemoration of this event on the eighth day of the Islamic month of Dhul-Hijjah — the Day of Arafat — that is the indispensable part of the hajj. All two million pilgrims are to visit Arafat on the second day of the hajj, before traveling to Muzdalifah, on the way to Mina, to pray and sleep.
NYT
On 9th Dhu al-Hijjah before noon, pilgrims arrive at Arafat, a barren and plain land some 20 kilometers east of Mecca, where they stand in contemplative vigil: they offer supplications, repent on and atone for their past sins, and seek mercy of God, and listen to sermon from the Islamic scholars who deliver it from near Jabal al-Rahmah (The Mount of Mercy) from where Muhammad is said to have delivered his last sermon. Lasting from noon through sunset,this is known as 'standing before God' (wuquf), one of the most significant rites of Hajj.At Masjid al-Namirah, pilgrims offer noon and afternoon prayers together at noon time. A pilgrim's Hajj is considered invalid if they do not spend the afternoon on Arafat.
wiki
'See how I rend myself, see how mangled is Mohammed!'