Boko Haram's New Leader Abu Musab al-Barnawi To Take Hajj Pilgrimage To Mecca In New Buses Paid For By Saudis
New Buses For 2016 HAJJ
New leader of the Boko Haram is Muslim Abu Musab al-Barnawi.


al-Barnawi is an enemy of Jesus Christ Crucified.


al-Barnawi promises that his men will destroy the Catholic Church by:
"booby-trapping and blowing up every church that we are able to reach, and killing all of those who we find from the citizens of the Cross,"
In order to wage a greater war on the Catholic Church in Nigeria, Boko Haram has teamed up with ISIS. And under al-Barnawi's command the war on the Church will start in earnest.
Using booby traps hidden in Catholic Churches, car bombs out side of Catholic Churches set to go off after Mass, direct slaughter of Catholics using weapons during Mass, or using children as suicide bombers.
ISIS video production celebrating the union of both camps:

al-Barnawi's image is not made public. And this is a very good thing for al-Barnawi. He is able to take full advantage of his anonymity, and soon will: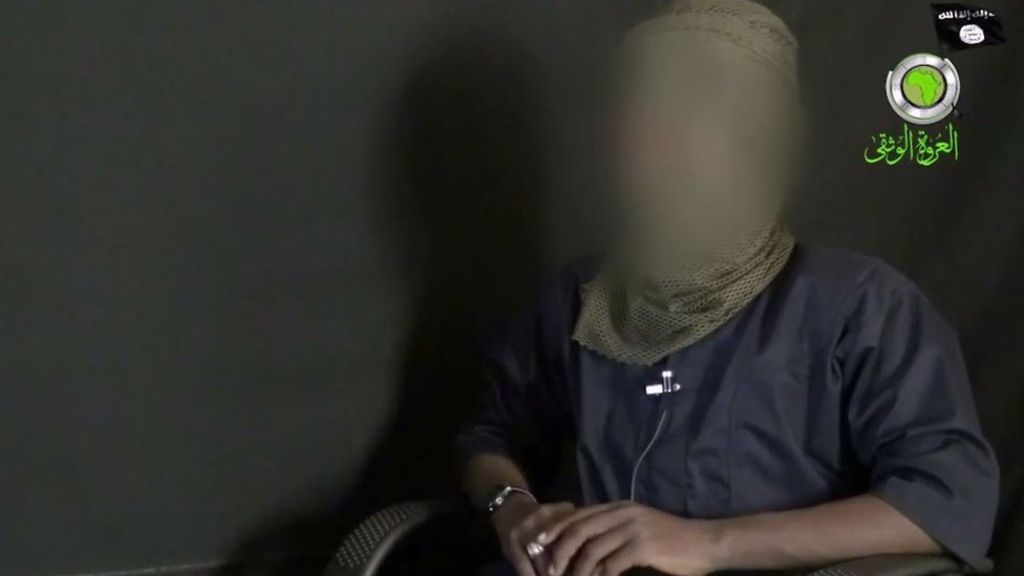 Abu Musab al-Barnawi
al-Barnawi plans to celebrate his promotion as leader of Boko Haram and the union with ISIS with a trip to Mecca this September for the Hajj, again, taking full advantage of his anonymity, he is able to travel freely to Mecca.
Once in Saudi Arabia, al-Barnawi will take one of many new buses provided for by the Saudi government:
Hajj 2016: Saudi Arabia To Replace 4,000 Buses For Nigerian Pilgrims
The National Hajj Commission of Nigeria (NAHCON) has said that about 4000 buses mostly used by Nigerian pilgrims would be replaced by Saudi Arabian government ahead of this year's hajj exercise. Chairman of the commission Abdullahi Mukhtar Mohammed made the disclosure yesterday in Abuja while hosting a delegation of the Muslim Media Practitioners of Nigeria (MMPN) who paid him a courtesy call. He said the visit of President Muhammadu Buhari and efforts of the commission and other stakeholders had led to the securing of better deals for Nigerian pilgrims and which hopefully would be applicable from this year's hajj. "The Saudi Arabia authorities have assured us that only buses from 2008 models would be used by our pilgrims and that about 4000 of the existing buses would be withdrawn and replaced with new ones."The visit of President Muhammadu Buhari also led to the Saudi government assuring us that there would change in the location of Nigerian tent in Mina

Source
There is already an advance team on its way to Saudi Arabia for the Nigeria Hajj Pilgrims:
NAHCON advance team departs for Saudi Arabi
Ahead of the commencement of the 2016 Hajj airlift operation, a team of 52 officials of the National Hajj Commission of Nigeria, (NAHCON), including medical personnel, departed for Saudi Arabia on Friday as part of the advance team to this year's Holy Pilgrimage to Makkah..
The team, made up of members of the national reception team, national medical team, accommodation and feeding committees are in the kingdom preparatory to receiving the first batch of Nigerian Pilgrims from Zamfara State who are expected to arrive Madina on August 8.
The team will also oversee the airport protocol process of the pilgrims at the King Abdul Aziz International Airport, KAIA, Jeddah, and Prince Mohammad Ibn Abdul Aziz, airport, Madina, and also undertake the allocation and distribution of accommodation, as well as provision of medical services and feeding arrangement for the pilgrims. .
At a briefing ceremony shortly before the team's departure to Jeddah at the Nnamdi Azikwe Airport Abuja, the Chairman/CEO of NAHCON, Abdullahi Muhammed, charged the officials to always uphold the vision and mission of the Commission by discharging their responsibilities, emphasizing the need to put the interest of the country and the pilgrims on the front burner..
​He added that their conduct would go a long way to re-enforce the positive image the country currently enjoys as a disciplined and responsive nation..
Meanwhile, the first consignment of the e-wrist band introduced by the Commission in the wake of last year's tragic accidents in Saudi Arabia for easy identification and tracking of Pilgrims in the Holy land has been delivered and its distribution to the various state pilgrims board will commence immediately before their departure to the Holy Land. Source
Article doesn't say that this advance team is made up of bomb experts looking for booby traps on the 4000 buses that the Nigerians & faceless Abu Musab al-Barnawi will be riding to Mecca.
But that's one of the main reason for the advance team.
Seems Abu Musab al-Barnawi is paranoid about booby traps. And maybe he has a legitimate concern:
How the CIA managed to leave explosives on a special-needs school bus — without noticing
Briar Woods High School, a half-hour drive from the CIA's headquarters in Northern Virginia, might have provided an ideal training ground for the agency's bomb-sniffing dogs. Its labyrinthine hallways and voluminous classrooms are home to something that can wreak havoc for the canines: polished floors, which cause dogs to slip and lose their focus as they hunt for explosives. That was one reason the school, which educates nearly 1,700 students in Ashburn, played host to a CIA dog team for a training exercise while students were on spring break last week, according to the Loudoun County school system. But the choice to go to a public school for the quiet exercise has led to an only-in-Washington embarrassment for the elite spy agency, which left explosive material behind in the engine compartment of a school bus that then shuttled special-needs children for two days this week. A mechanic discovered and removed the explosive putty — which county Supervisor Koran Saines (D-Sterling) said was the demolition explosive C-4 — during a routine bus maintenance check Wednesday. Until then, no one noticed that it was missing.
Source
Whoops!
Wheels On The Bus Go Round And Round